How To Judge The Renal Failure From The Symptoms
2018-07-23 14:44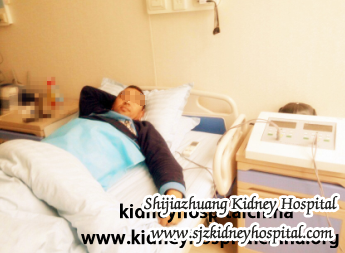 When you have kidney disease and doubt it to develop to the renal fialure,how to judge it ,then we can know that from the following message.Kidney failure has five signs. if there are more than three signs, it indicates renal failure or uremia!
From kidney disease to renal failure, this is a chronic process. What symptoms actually appear, suggesting that kidney failure?
First, gastrointestinal symptoms that are most easily overlooked, many renal failure often start with gastrointestinal symptoms, such as poor appetite, nausea and vomiting, and even abnormal urine smell in the mouth. When these symptoms occur, you should not only think that you have stomach trouble, but you should go to the hospital to check your kidney function in time.
Secondly, patients with asthenia, anemia and renal failure all have anemia to some extent, some are mild and some are moderate, because renal failure reaches a certain level.Kidney cannot secrete erythropoietin, so it is also called renal anemia. Continuous anemia can cause many uncomfortable symptoms, such as fatigue, dizziness and poor appetite.
Thirdly, bone pain, walking inconvenience, osteoporosis, renal failure will also cause metabolic and endocrine dysfunction, calcium secretion will be reduced, the proportion of phosphorus will rise, and the time will be long. Osteoporosis and bone pain are easily induced, so people with renal failure are more likely to have spontaneous fractures.
Fourthly, chest distress, palpitation, dyspnea. the main death of renal failure is not renal failure itself, but cardiovascular disease. this is because renal failure leads to water and sodium retention. Metabolic waste in the body cannot be excreted in time. The result of accumulation in the body is heart failure.
Fifthly, people with oliguria, anuria, edema of the whole body, poor control of blood pressure and renal failure and urine volume is getting low, which leads to oliguria and even more serious anuria. It is accompanied by systemic edema and blood pressure is often high.
If there are more than three of the above symptoms, it indicates the end stage of renal failure, that is, what we call uremia. For uremic people, it is impossible to control the progress of the disease simply by taking medicine, either continuous hemodialysisor kidney transplant is the must.
The kidney is very important to everyone, so we should protect it well, do not eat too salty, do not drink carbonated beverages all the time, and control hypertension and Diabetes.
The timely treatment is very important to help you improve the kidney function ,then the western medicine and Chinese herbal medicine can do effective to patients ,western medicine can relieve the symptoms of kidney disease easily but it will relapse again soon, on the contrary the natural treatment with herbal medicine can treat the disease from root,and this systemic treatment has been researched by our kidney experts in Beijing Tongshantang Hospital of Traditional Chinese Medicine for many years, if you want to know more about it please contact us through following:
E-mail: sjzkidneyhospital@hotmail.com
WhatsApp: +8618633865632
Any kidney problems? Please consult our online doctor. The satisfaction of patient is as high as 93%.
What you also want to know:
How can I get this treatment ?
How can I get this treatment in my counties ?
How much is this treatment ?
What is the duration if I receive this treatment in your hospital ?
How can I go to your hospital ?
Tag: Kidney Failure   renal failure   Natural Treatment   Edema   Anemia   Oliguria   Dyspnea   Palpitation   Chest distress   Walk inconvenience   Bone pain   Asthenia   Chronic progess   Gastrointestinal symptoms   Anuria  
Pre: The Major Symptoms of Uremia Patient
Next: How To Diagnose Uremia And Avoid Further Damage To Patients
Leave a Message
Any questions?Fill the form below and we will surely attend to you within 24 hours.Free medical answers from experts!
About Hospital
Patient Story
Special treatment