Dialysis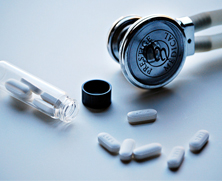 Dialysis is a replacement therapy for the losing renal function due to End Stage Renal Disease.It plays a significant role in reliving serious symptoms and enhancing life quality.
There are five stages of Chronic Kidney Disease (CKD).When CKD enters into the final stage,Dialysis is recommended for patients to prolong life expectancy.When CKD develops,kidney functions decrease gradually and increasingly.When GFR declines below 15 ml/min,it is time for you to accept Dialysis.With the consistently falling of renal functions,wastes and toxins build up in our body thus leading to various complications such as high blood pressure,swelling,bone disease,etc.
What types of dialysis are there?
Dialysis mainly includes two types: hemodialysis and peritoneal dialysis.
Hemodialysis
Hemodialysis applies a dialysis machine to remove wastes and toxins out of the body to keep people's daily life.Hemodialysis uses a machine to replace the native kidneys to remove wastes and toxins out of the blood.Your arms will be put into a small needle to access to blood vessels. Hemodialysis treatments usually last about four hours and is usually done three times a week. Hemodialysis only can excrete the micro-molecular harmful substances, but does not work in removing middle-molecular or macromolecular substances. The remaining harmful substances and toxins can damage to your kidneys consistently.
2.Peritoneal dialysis is filtering the blood in abdominal area.This therapies are so flexible thus providing more free time for patients to work or other activities.Therefore many people choose this therapies.A surgery is necessary to create an access into your abdominal area before accepting peritoneal.
What are the do's and don'ts of dialysis?
1.Dialysis fails to remove harmful substances such as phosphorus out of the body so as to make a strict and mineral diet plan for Dialysis patients. Meanwhile it removes useless substances such as protein out of the body successfully.Therefore the patients have a more desperate need for protein.
2.Pay special attention to blood pressure and glucose for people with high blood pressure or Diabetes.
3.Infections is another killer of people on dialysis.In order to prolong your life expectancy,ensure your tube clean especially for people with peritoneal.
4.The patients need to follow doctor's direction.On the contrary,more and more toxins and wastes build up and the illness condition becomes worse.
5. The patients should keep their dry weight and weigh themselves regularly in case of dehydration or inadequate dialysis.
Leave a Message
Any questions?Fill the form below and we will surely attend to you within 24 hours.Free medical answers from experts!
About Hospital
Patient Story
Special treatment
Latest Articles