Kidney Disease Patients Should Avoid These "Bad" Protein
2018-04-27 17:46
In terms of diet for kidney disease patients, low protein diet is required commonly. Because the high protein diet produces more materials and wastes in the body, which needs the kidney to metabolize, increasing the burden of the kidney. And it is not conducive to the repair of renal function.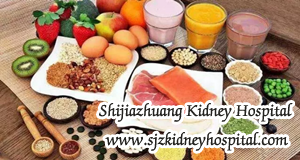 But since some patients do not know clear what is the low protein diet, it is easy to cause food misunderstanding, even thought that the low protein diet is "no meat".
For patients with different stages of kidney disease, the requirements for low protein diet are different, but it is not as simple as not eating any meat.
What stage of kidney disease are you stay in? How much protein is more appropriate to eat?
The patients in the phase 1 and 2 of chronic kidney disease (CKD), glomerular filtration rate (GFR) is above 60ml/min/1.73m2, the impairment of renal function is relatively light, which do not ask to limit the intake of protein and the protein can be taken according to the intake of normal people. Daily intake of protein per person is basically 1g/kg, for example, a person in 70kg has a total protein intake of 70g per day.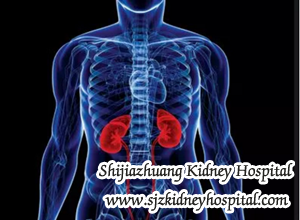 The patients in the phase 3 of chronic kidney disease (CKD), glomerular filtration rate (GFR) is between 15 and 60ml/min/1.73m2, and the kidney becomes gradually sclerosis and fibrosis, or developed into renal insufficiency and even renal failure. The metabolic function of the kidney is decreasing, so it is necessary to start restricting protein intake.
At this time, protein intake per person should be controlled at 0.6-0.8g/kg per day. A standard body weighted of 70kg will be controlled by about 50g protein per day.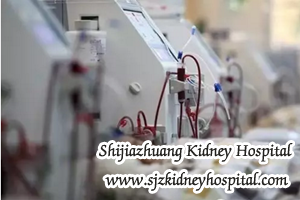 Patients with end-stage renal disease (uremia), who do not have dialysis, also need to limit protein intake, because the renal function is badly damaged and irreversible. So, the ability to metabolize toxins is extremely poor, and it will lead to the accumulation of toxins in the body if not controlled, what will aggravate the impairment of kidney function.
But for the patients who have been on dialysis, the waste toxin in the body can be changed by dialysis. And the patients at this stage are prone to have poor appetite owing to dialysis, toxin accumulation and so on. Meanwhile, the patients is often accompanied by malnutrition. Therefore, it is not necessary to restrict the intake of protein seriously, and can be eaten according to the normal intake.
Chronic Kidney Disease diet should follow the "four eat and two not eat" principle, these "bad" protein to eat as less as possible.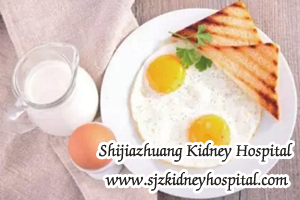 Foods with high quality protein are the first choice, including four types:
Meat, including fish, chicken, beef, pork, mutton, and other poultry.
Eggs.
Milk, mainly cow milk, skimmed milk, raw milk and so on.
Soybeans or bean products such as tofu, pea, soya bean, bean sprouts, etc.
Low quality" protein is a kind of food containing plant protein. The protein in these kinds of food is not easy to digest and absorb, so the patients with chronic kidney disease should eat less or not, there are mainly 2 two categories: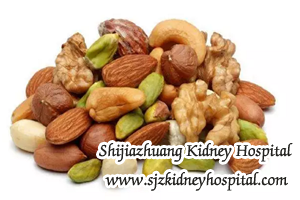 Sweet potato, such as rice, corn, buckwheat, oats, sweet potato, potato, yam, taro and so on.
Nuts, such as peanuts, walnuts, almonds, lotus seeds, pine nuts and others.
For the food that we say above are major protein sources, the kidney disease patients are able to choose them to eat after communicating with the doctor and make a detailed protein intake plan. No food that can't be eaten absolutely. When the diet plan is made, it should be aimed at protecting the kidney function, and refusal of the harmful eating habits are more important for maintain chronic kidney disease.
If you want to gain more information about chronic kidney disease, welcome to contact us directly. We are glad to help you.
E-mail: sjzkidneyhospital@hotmail.com
Whatsapp / Viber / Wechat: +8618633865632
Any kidney problems? Please consult our online doctor. The satisfaction of patient is as high as 93%.
What you also want to know:
How can I get this treatment ?
How can I get this treatment in my counties ?
How much is this treatment ?
What is the duration if I receive this treatment in your hospital ?
How can I go to your hospital ?
Tag: CKD Diet  
Pre: Should Carrot Juice be Limited for CKD Patients with Serious Edema
Next: Eat These 5 Kinds of Food to Improve Immunity and Protect Yourselves
Leave a Message
Any questions?Fill the form below and we will surely attend to you within 24 hours.Free medical answers from experts!
About Hospital
Patient Story
Special treatment