Kidney Will be Damaged By 3 Major Infections Especially for Kidney Disease Patients
2018-04-26 17:37
Yesterday, I met a senior high school schoolmate who had not been contacted for a long time. She heard that I am working in the Department of Nephrology, and thus talked about a thing happened more than a decade ago.
When she was in high school, she often had a lumbago. After she told her parents, her parents all had the same attitude: what special disease would a child have.
That lasted for two and a half years, she could not bear it any more, and went to see her aunt. Her aunt was a director in the Department of Endocrinology of the city hospital. After asking her conditions, her aunt suspected that she was suffering from upper urinary tract infection and took her to check urine.
The result was: urine protein 3+. The long time of urinary tract infection leaded to chronic nephritis.
It's more than 10 years now, and occasionally there will be a relapse.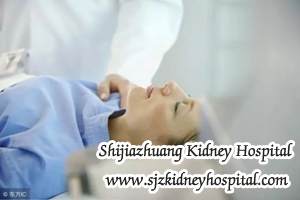 In fact, nephritis is very common, and what surprised me is that she came from a medical family. Not only her aunt, but her grandfather and grandmother are doctors and they are also a professor of medicine. Her father had studied medicine, but later turned to chemistry. And her mother studied physics. Her parents were all doctorate and engaged in scientific research at the Institute.
In fact, there are many families who ignore the physical symptoms. For example, I treated a uremia patient, who had also urinary tract infection associated with low back pain in his childhood. At that time, the parents do not pay any attention to it. Finally, the result turned to chronic kidney disease, and then to uremia.
But, my high school classmate, who born in such a medicinal and well-educated family, is also like a common person, ignoring the child's urinary tract infection, leaving a lifetime regret.
So today I want to talk about how to prevent infection, damaging the kidneys.
There are 3 most common infections in patients with kidney disease:
1. Urinary tract infection.
2. Respiratory tract infection.
3. Infection of the digestive tract.
First, let's take about urinary tract infection.
The main symptoms are frequent urination, urination, low back pain, high fever, headache and other discomforts, inducing or worsen kidney damage.
Most of these infections appear among female, especially girls who are easily overlooked. Due to the careless of children, too many young girls and boys get into a severe disease.
In addition to anti infection treatment, physical exercise, health care and other common sense, here are two recommendations for patients with urinary tract infections:
1.Some studies have shown that cranberry juice can effectively prevent urinary tract infection. The people who has a history of urinary tract infection can drink cranberry juice conditionally.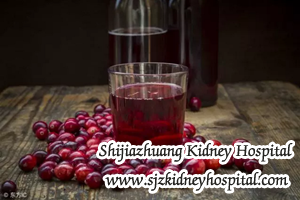 2. Urinary tract infection related to sexual contact:I suggest that the woman at least drink a glass of water after the event, and have a rest or sleep after urination.
And then, look at respiratory tract infection.
The most common respiratory tract infection is upper respiratory tract infection, also known as a cold. Nephritis often occurs after a cold, so chronic nephritis also be called by cold sequelae.
The common cold is caused by non flu virus such as rhinovirus. The symptoms are relatively light and it can disappear owing to self-healing. Generally, there is no need for treatment (if the symptoms are obvious, small doses of antipyretic drugs is OK); influenza viruses are caused by influenza viruses and antiviral drugs can be used.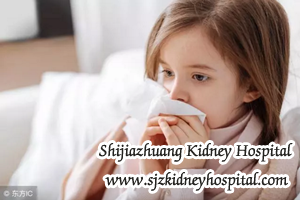 But once a cold happens, the kidney damage is occurred actually. It can not be changed, no matter which kind of cold medicine is used. So the emphasis is still on the two methods of prevention:
1. Patients with low immunity should use immunoglobulin such as propionate and levamisole appropriately. The improvement of immunity can effectively prevent the cold.
2. Unless there are taboos, recommend all adult kidney disease patients (including renal failure and uremic patients) to take influenza vaccine and pneumococcal vaccine. Vaccines can reduce the risk of cold infections to a maximum .
The last is the digestive tract infection.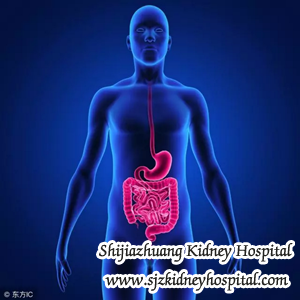 The main feature caused by digestive tract infection is infectious diarrhea, such as bacillary dysentery, bacterial food poisoning, gastroenteritis, typhoid and paratyphoid, biliary tract, pancreas and abdominal infection. These infections can be caused by not only bacteria, fungi, viruses, but also parasites.
Prevention of digestive tract infections should be done in these ways.
1.The food should be cooked thoroughly.
2.Do not drink the raw water.
3.Boil the bowl and chopsticks for 2 minutes before eating.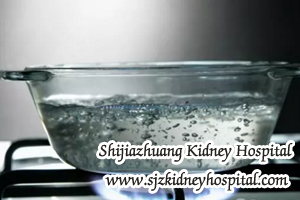 1). Bacterial infections of the digestive tract are often treated with quinolones.
2). The infection of digestive tract caused by virus and parasite is mostly self curing, If the patient's own immune function is perfect, no special medication is needed, and the treatment of the disease can be aimed at the symptoms, and the loss of water and electrolytes are supposed to be corrected.
3). Infection caused by fungi requires active antimicrobial therapy.
Controlling the three major infections, I believe your kidneys will be protect better.
For more information about kidney disease, welcome to contact us directly. We are glad to help you.
E-mail: kidneyservice@hotmail.com
Whatsapp / Viber / Wechat: +8615512139310
Any kidney problems? Please consult our online doctor. The satisfaction of patient is as high as 93%.
What you also want to know:
How can I get this treatment ?
How can I get this treatment in my counties ?
How much is this treatment ?
What is the duration if I receive this treatment in your hospital ?
How can I go to your hospital ?
Tag: Chronic Nephritis Basics  
Pre: Chronic Nephritis Basics
Next: Some Useful Tests For Glomerulonephritis Are Beneficial To You
Leave a Message
Any questions?Fill the form below and we will surely attend to you within 24 hours.Free medical answers from experts!
About Hospital
Patient Story
Special treatment