Some Sources For Renal Failure Should Be Known For Patients
2018-12-04 11:27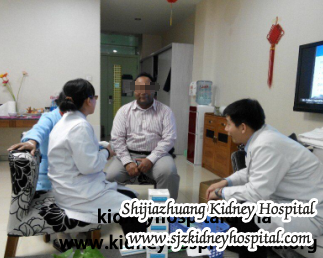 Nephrologist says: kidney failure has 3 disease sources, the 3rd is the easiest to ignore!
At present, China's population of chronic kidney disease patients has exceeded 100 million, a huge number, but also a little scary.
But we still need to understand: even if there is kidney disease, it is not all kidney failure, the outcome of uremia!
Most nephropathy patients are not diagnosed with kidney failure and uremia at the beginning of the disease, but under the action of various internal and external factors, they develop into such a difficult situation.
In view of this, which patients are more prone to clinical "decline", "poison"?There are three main features:
I. Inherent pathological types.
Membranous proliferative glomerulonephritis, diabetic nephropathy, and focal segmental glomerulosclerosis (FSGS) are all pathologic types of nephropathy that are relatively dangerous at the early stage of development and have a high risk of worsening failure.
Such as mild mesangial proliferative glomerulonephritis, small lesions, IGA nephropathy, membranous nephropathy, the condition is relatively light, the correct treatment of the disease is easy to control, it is difficult to renal failure.
Two, 24 hours of quantitative continuous more than 1g, urine protein is obvious, treatment problems.
This often happens in clinical practice, especially when the urine protein quantification of patients has exceeded 1g/24h, still do not care about;Kidney failure will accelerate if you don't try the combination of traditional Chinese and western medicine even though the hormone is ineffective or resistant.
High blood pressure is out of control.
The patient that appears kidney function inadequacy commonly, if accompany occurrence hypertension again, the course of disease aggravation will accelerate.Even the inflammatory phase of chronic kidney disease, known as nephritis, when high blood pressure occurs, is more difficult to treat.But this is often overlooked!
Even if these patients are more prone to kidney failure, that doesn't mean doctors are helpless.
And the key that has a policy depends on nephritis stage to take active remedial measure, such ability can be far from kidney failure as far as possible!
Traditional Chinese medicine believes that nephritis is generally divided into spleen tightness qi deficiency, liver and kidney Yin deficiency, qi and Yin deficiency and spleen and kidney Yang deficiency type ii, chronic nephritis due to spleen and kidney deficiency, sanjiao qi stagnation, water course impaction and edema.Commonly used prescriptions are xiangsha liujunzi decoction, buzhong yiqi decoction, shenling baishu powder and so on.
The treatment of western medicine focuses on the relief of symptoms. In clinical practice, western medicine will choose diuresis, hypotension, hypokalemia and other drugs for targeted treatment, and dialysis treatment can be carried out in case of emergency.
From the information about the renal failure you can be beneficial from it and any questions about that please contact us through the following message:
E-mail: kidneyservice@hotmail.com
WhatsApp: +8615512139310
Any kidney problems? Please consult our online doctor. The satisfaction of patient is as high as 93%.
What you also want to know:
How can I get this treatment ?
How can I get this treatment in my counties ?
How much is this treatment ?
What is the duration if I receive this treatment in your hospital ?
How can I go to your hospital ?
Tag: Kidney Failure   Chronic Kidney Disease   Traditional Chinese Medicine   high blood pressure   Nephrologist   Pathological types  
Pre: Six Points To Help You Avoid Renal Failure
Next: None
Leave a Message
Any questions?Fill the form below and we will surely attend to you within 24 hours.Free medical answers from experts!
About Hospital
Patient Story
Special treatment