Diabetic Nephropathy Should Do These 3 Things to Avoid Uremia
2018-05-02 16:41
Doctor, I have diabetes for almost 10 years. Will it cause kidney damage?
Doctor, my blood sugar is stable, but there is proteinuria, is it worse?
Doctor, I have diabetic nephropathy. What is the probability of getting uremia?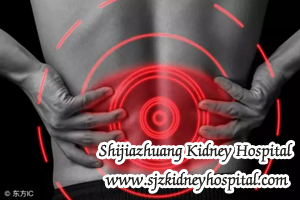 In fact, patients with type 2 diabetes what are sustaining more than 5 years are easier to be ill with kidney damage. Compared with other secondary diseases, diabetic nephropathy is more likely to develop to uremia. Although diabetic nephropathy is serious, we can greatly reduce the risk caused depressed renal function as long as timely treatment to stabilize all indicators in time.
For the treatment of diabetic nephropathy, it is very important to control these 3 points and avoid the damage progress of renal function.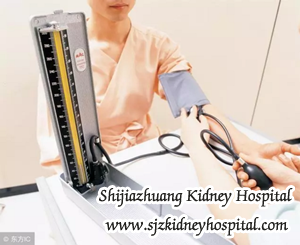 Steady blood pressure level.
Diabetic patients often have high blood pressure as well. In the middle stage of kidney disease after, the decrease of renal function and sodium ability will be lowered, increasing the level of blood pressure. The increase of blood pressure will add accumulation of water and sodium in the body, thereby aggravating the metabolic burden of the kidneys and also the damage to renal function. Therefore, blood pressure control is a key step to avoid further kidney damage.
For the control of blood pressure, patients with diabetic nephropathy and microalbuminuria are recommended to choose angiotensin converting enzyme inhibitors (ACEI) or angiotensin II receptor antagonist (ARB). These two kinds of drugs are long effective antihypertensive drugs, which can keep the blood concentration for a long time and maintain the stabilization of blood pressure level.
In addition, these two kinds of drugs also have the function of reducing protein urine and protecting kidney function. So the diabetic patients with albuminuria can use these two kinds of drugs to depressurization.
Drug treatment is very important to control blood pressure, but to avoid damage of renal function, blood pressure should be controlled in a certain range. The standard of blood pressure in different cases is different.
For diabetic nephropathy patients who are not older than 18 years, they are mainly in the company of type 1 diabetes, the blood pressure control is below 140/90 mmHg. But for patients with diabetic nephropathy associated with proteinuria, most of them are type 2 diabetic patients, blood pressure are supposed to be below 130/80mmHg. While the diastolic pressure are not less than 60, it is more beneficial to the protection of the kidney function.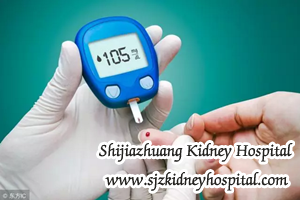 Strict control of blood sugar level
The cause of diabetic nephropathy is the destruction of kidney function resulted form abnormal blood sugar. So, it is urgent to prevent further renal damage and control the stability of blood sugar.
Generally speaking, glycosylated hemoglobin (HbA1c) in patients with diabetic nephropathy should be controlled below 7%, which is more beneficial to the protection of renal function.
Some patients may encounter such a problem: Taking the same drug, the same amount, but after the occurrence of renal impairment, blood sugar will be lower than before. You know, the risk of hypoglycemia is no less than high blood sugar.
This is mainly because some hypoglycemic drugs, such as metformin and partial sulfonylurea, need to be filtered through kidney. After kidneys are impaired, the excretory function is reduced, which will lead to the accumulation of drugs or some unwanted things in the body, resulting in the increase of blood concentration, the lower blood sugar level, and even less than the safety range.
Therefore, during the period of taking hypoglycemic agents, patients with diabetic kidney disease should not only monitor the changes of blood glucose, but also detect the changes of blood concentration, so as to avoid unnecessary injury.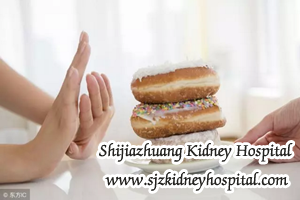 The "three low" diet is more conducive to the protection of renal function
Low sugar diet, minimize the intake of foods with high sugar content or making the blood sugar high.
Low salt diet, daily intake of less than 5g per person is safer and helps stabilize blood pressure.
High-quality low protein diet, avoid protein urine increase, daily protein intake of about 0.8 g/kg, if there are other circumstances, according to the doctor's request for adjustments.
The stage of the diabetic nephropathy is usually divided into 5 stages, from the initial stage to the uremia stage. Besides, the earlier it is found that the more timely the treatment is, the more likely the cure is, and the uremic phase will not be reached.
Hence, it is recommended that diabetic patients undergo routine urine tests and renal function tests every year.
For more related information about diabetic nephropathy, welcome to contact us directly. We are glad to help you.
E-mail: kidneyservice@hotmail.com
Whatsapp / Viber / Wechat: +8615512139310
Any kidney problems? Please consult our online doctor. The satisfaction of patient is as high as 93%.
What you also want to know:
How can I get this treatment ?
How can I get this treatment in my counties ?
How much is this treatment ?
What is the duration if I receive this treatment in your hospital ?
How can I go to your hospital ?
Tag: Diabetic Nephropathy basics  
Pre: What are the Common Causes of Diabetic Nephropathy
Next: How To Find Early Stage Of Diabetic Nephropathy Through Tests
Leave a Message
Any questions?Fill the form below and we will surely attend to you within 24 hours.Free medical answers from experts!
About Hospital
Patient Story
Special treatment