Reason And Clinical Manifestations of Renal Insufficiency
2018-08-09 14:24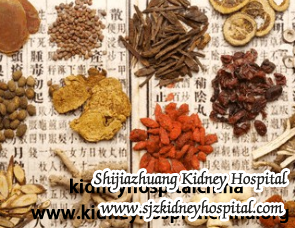 As to most kidney insufficiency patients they often have some clinical manifestations ,that is called the heart and kidney failure syndrome in patients with renal insufficiency
[ clinical manifestations ] upset and sleepless, fright and dreaminess, dizziness, amnesia, tinnitus, soreness of waist and knees, occasional wet dream, dry throat, yellow urine, constipation, or hot flashes and night sweat. The tongue is red, the tundra is thin, the yellow and less fluid, and the pulse count is lwo. Or both waist and knee soreness, chills.
[ cause analysis ] it is mostly caused by too much anxiety, or failure to think, emotional changes of fire, excessive heart yang, kidney yin depletion, or loss of atrioventricular node, prolonged illness due to fatigue, etc. So that kidney yin loses and deficiency yang is excessive, disturbing the mind.
If the kidney dosen't have enough water to nourish the heart yin, then the heart yang is too high, or the heart fire is too high to nourish the heart yin, and the internal consumption of yin essence causes the kidney yin to lose. The yin-yang and fire-water of heart and kidney lose coordination, thus forming pathological changes of heart and kidney disharmony.
Deficiency of kidney yin, lack of water, hyperactivity of heart yang, disturbance of deficiency fire, restlessness, vexation, insomnia, fright and dreaminess. If the kidney essence is insufficient, the eyes and ears are lost and the brain marrow is not filled, so dizziness, amnesia, tinnitus, soreness of waist and knees are soft. Yin does not collect yang, and the phase of fire tends to flourish, disrupting the essence chamber. Therefore, there is wet dream from time to time. The internal disturbance of deficiency fire and the consumption of yin and fluid can lead to symptoms such as dry mouth, night sweat, hot flashes, yellow urine, constipation, and rapid pulse count. If both waist and knees are sore and cold, it may be that the yin damages the yang, or the fire does not return to the original, causing the yin and cold to set.
The key points of this pattern are palpitation, insomnia, dreaminess and spermatorrhea, soreness of waist and knees, and yin deficiency.As to these discomforts the Traditional Chinese medicine is very effective,and after development the natural treatment in Beijing Tongshantang Hospital of Traditional Chinese Medicine has been researched by the kidney experts for many years.More and more kidney patients are beneficial from it ,then if you want to know more about that treatment please contact us through the following :
E-mail: sjzkidneyhospital@hotmail.com
WhatsApp: +8618395615012
Any kidney problems? Please consult our online doctor. The satisfaction of patient is as high as 93%.
What you also want to know:
How can I get this treatment ?
How can I get this treatment in my counties ?
How much is this treatment ?
What is the duration if I receive this treatment in your hospital ?
How can I go to your hospital ?
Tag: Traditional Chinese Medicine   Kidney insufficiency   Tinnitus   Clinical manifestations   Restlessness   Disturbance of deficiency fire   Nourish the heart yin   Night sweat   Dry throat   Occasional wet dream   Soreness of waist and knees   Amnesia   Diziness   Insomnia   Vexation  
Pre: What Is Exercise Hemoglobinuria And How To Deal With It
Next: Back Pain Is One Of Important Indicator Of Kidney Disease
Leave a Message
Any questions?Fill the form below and we will surely attend to you within 24 hours.Free medical answers from experts!
About Hospital
Patient Story
Special treatment